Businesses and individuals are often in need of exceptional printing services within narrow timelines and budgets. It is no news that when people want their business cards, post cards or such items printed and delivered, they are often in a hurry, while still expecting an affordable price, without compromising quality. For businesses, getting the best quality production, at a great price, while meeting deadlines often becomes a challenge.
However, one company that comes to mind when faced with such a challenge of getting outstanding RUSH printing services is 55printing.com. 55printing.com is a media and news company based in Los Angeles CA 90036, that offer high quality Rush printing services at affordable prices. Though with the best price on the Internet, they still offer to price-match any competitor, with a view to offering best-in-class services to clients and prospects. Housing over 5000 design templates to choose from, https://store.55printing.com also boasts of a free design tool and numerous resources to ensure that customer experience is top notch.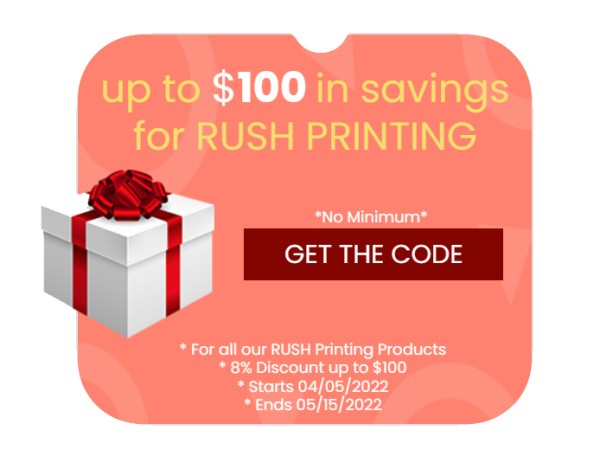 In keeping with their customer-centric disposition, 55printing.com continues to offer irresistible discounts, the latest being an 8% discount on their RUSH products. As they just created a new line of products dedicated to RUSH Printing service, this offer guarantees that one can save up to $100 at this period by just using the discount code when placing ones order. From April 5th to May 15th 2022, the following RUSH printing services will be at a discount:
1. RUSH Color Copies.
2. RUSH Business Cards.
3. RUSH EDDM® Printing.
4. RUSH Flyers Printing.
5. Rush Postcard Printing.
6. Rush Brochure Printing
One may use the online design maker, adopting one of the over 5000 available templates or just submitting a ready-to-print design file of any format to enjoy uninterrupted full speed production. EDDM® printing services is designed to meet USPS requirements with other numerous advantages like, no mailing list needed, no permits required, etc. In the event of an issue with ones design, 55printing.com pledges to reach out to the client swiftly via phone and email to make necessary adjustments. 55printing.com also offers a 3 days Rush guarantee, pledging a full refund if, on the 3rd shops day after acceptance of design, ones order is not shipped (Terms and Conditions apply). The refund does not waive the clients right to the product.
A good printing company which can maintain all requirements while offering the best possible solutions is what one needs at this time, with the harsh conditions caused by the Covid pandemic. With a 3day RUSH Guarantee, 55printing.com's new fast production line, supper quality production and exceptional customer service is what one deserves, to meet ones printing needs, promote ones business and enhance market size.
Smart businesses and individuals are sure to click on https://store.55printing.com to enjoy this offer by using the discount code: 8offRUSHupto100
Media Contact
Company Name: 55printing
Contact Person: Jean Francois
Email: Send Email
Phone: +1 800-683-4296
Country: United States
Website: https://store.55printing.com