Story by Jude Binkley
Spring training, Phoenix Open, NASCAR, Fiesta Bowl. The valley has always been known for drawing massive numbers of tourists through sporting events.
Mesa's Bell Bank Park is the newest facility that will be bringing in year-round sporting events, tourism, and money to the city and its neighbors.
The 320-acre park stands as the largest youth and amateur sports complex in North America. Its list of facilities is as long as a CVS receipt, and includes 35 multi-purpose fields (including a 5,000 capacity stadium and championship field), 19 basketball courts, 57 volleyball courts, 8 baseball/softball fields, 12 beach volleyball courts, 41 pickleball courts, 22 futsal courts, a 10,000 capacity concert and special events field, obstacle course park, arcade center, gymnastics and dance spaces, fitness center, esports gaming center, and a sports bar.

"It came into a market like Mesa, that is not a Phoenix or Anaheim or Orange County," Lance Fite, Director of Sports for Visit Mesa said. "And all of a sudden, because of that one facility, it made us on par to be able to go against those major markets in hosting sports."
While construction broke ground in October 2020, the idea for the mega park had been around for years. The project was the child of Randy Miller, chairman of Legacy Sports USA. Both of his sons, Chad and Brett, are involved in the project and come from the east valley. After around a decade of shopping for land, and found an area at Eastmark. The majority of the park's funding was private and came through bonds.

In a little over a year, the massive desert plot was transformed into a world-class facility, thanks to 24/7 construction crews. The park set a record for the largest turf purchase, and another for the largest single turf lay of 3 million square feet.
Fite was working with their sports directors to book events before Bell Bank Park finished construction. It was a process that involved figuring out the size, scope, and timelines for these events and the number of hotels that are needed.
He was there when the park was unveiled to the public with a ribbon-cutting in Feburary.
"We were standing there at the ribbon-cutting in this giant mega park that you know, has just kind of been a dream for all of us watching it happen, watching it come together," Fite said. "We put so much work into this, all of us from so many ends…after a year and a half of work finally seeing it open up was super gratifying."
As Director of Sports for Visit Mesa, Fite's job is to bring sports business into the city for maximum economic impact. The size and demand of Bell Bank Park have brought in numerous events, and Fite works with its team of 28 sports directors to make sure they bring in the best business.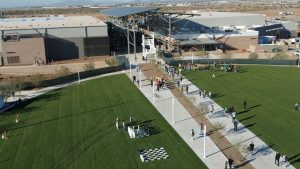 With some parents and youth organizations spending thousands of dollars to travel and watch their kids play sports, there's been plenty of local and out-of-state interest in Bell Bank Park's facilities.

"The youth sector is a multi-billion dollar travel tourism industry per year in the US," Fite said. "Bringing in a really good mix of pro, college, Olympic, and youth sports to Mesa is my entire job."
With the massive demand-driver, the Bell Bank Park is, some events have already locked in 5-10 year agreements with the park.
The economic impact has bled into cities, with Chandler, Gilbert, and Scottsdale having hotels booked due to the tourism numbers. Mesa is scheduled to build more hotels, in part to accommodate the influx from Bell Bank Park.

"We anticipate the demand to be ridiculous," Fite said.
The park will be hosting the USA Gymnastics Development Program National Championships in May, with 1,500 athletes expected to compete. SC Del Sol hosted their Desert Classic Tournament over President's Day weekend, which produced 3000 hotel rooms for Mesa.
"The economic impact is heavily relied on heads in beds," Fite said. "There's a lot of other factors – the spend of restaurants, renting cars, flying in – there's a ton of impact that goes into that calculator, but one that's heavily reliant is hotel room nights. It's one of the largest demand generators in tourism."
Bell Bank Park also has the facilities to host nontraditional sports. This benefits both the sports, who have nicer and larger facilities to host events, and hotels, which are able to book more events throughout the year.
With their indoor futsal courts, Bell Bank Park is filling Mesa with over 250 futsal teams from out of the market in July.
Legacy Cares, the owner of Bell Bank Park, has also partnered with Arizona Disabled Sports to host adaptive sports, camps, clinics, and events. They've recently signed a five-year deal with the Special Olympics to host events.
In addition to the tourism and economic influx brought to Mesa, Bell Bank Park also created over 500 jobs for the city.
"Now that we're laying the groundwork for it, the next half of this year and into year two and beyond is going to be incredible for the city," Fite said. "You're going to see hotels pop up, restaurants pop up. It's just one of those things where that all stemmed from a sports complex being built in Mesa that sparks so much economic development and growth for the city."
.