Perhaps Meg Ryan and Tom Hanks are your historical markers when it comes to one of the staples of early technology: email, with the AOL logo and the robotic male voice announcing, "You've got mail." Nowadays, email — both work and personal — syncs seamlessly with our computers and smartphones. It's easy to forget that some still don't have access to this updated luxury.
Yet this is the case for many hourly workers, especially those in the manufacturing, construction, warehousing, and hospitality industries, who are not equipped with corporate emails.
According to a 2020 survey by Emergence, 90 percent of technology is created for 20 percent of the workforce. However, 80 percent of the US workforce is comprised of hourly employees — meaning a majority of the workforce is being left behind from the tech revolution.
Sheila Stafford, Alison Teegarden, and Jeremy Wadsack have teamed up to bring technology to this underserved community. Their company, Everett-based TeamSense, was born out of incubator Pioneer Square Labs as a free text-based COVID symptom tracker in May 2020. It's now used to report absences, submit employee feedback, access important employee resources, and more.
It's a new way to bring technology to this mostly technology-lacking community, Stafford said.
How It Works
TeamSense is completely text-based. While many hourly workers might not have access to corporate emails, most have a cellphone.
"One of the biggest challenges for this particular workforce is an aversion to company-sponsored apps," Teegarden said. "As we started to really talk to more customers about this and realized that this was a major blocker, we found that text was actually something that most of these employees were really familiar with — as it was how they typically communicated with their friends and family — so why not extend it to their employer as well?"
It's a bit ironic, Stafford said. TeamSense — a tech startup — is using older technology to meet the needs of these industries. "It's like the anti-tech tech company," she said.
The way TeamSense works is twofold. Companies can design texts that they will send out and push to all their employees — like notifying employees of a closure or congratulating a team on a recent project or spreading an important safety tip. Employees also can send and request information. Employees can text certain keywords to a number, and it will recognize those keywords and which employee sent it. An example would be an employee requesting a day off.
It might look like this: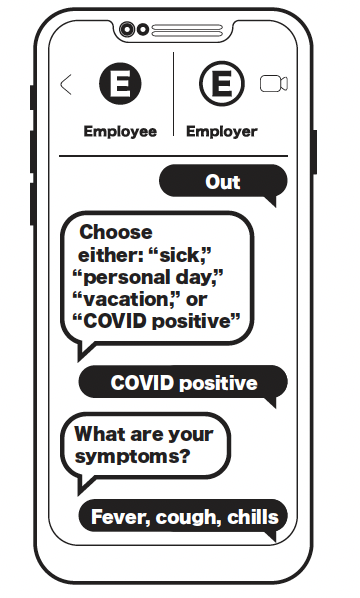 All the answers are connected with the exact codes the human resources department needs for a correct employment/benefits record.
Empowering Employees
With this improved access to technology and communication, employees also are equipped with better access to resources.
"You know, previously, you try to think about this kind of environment, and you typically have, like, one kiosk that's running Windows 98 in the corner of the cafeteria that everybody shares, and we really see it as empowering employees with the resources that every employee should come to expect to be able to do their jobs better, to be able to manage their employment, their benefits, and connect with their employers in a way that they couldn't do so before," Teegarden said.
And, in turn, employers are relieved of some of the past headaches in trying to communicate with and manage employees. The days of overlooked bulletin boards are over, Stafford said.
Creating a Better Workforce for the Future
Since TeamSense's launch, the team has amassed a long list of clients, including Hunter Douglas, Beaver Aerospace & Defense Inc., Pella, and more.
But what really means the most to the team is knowing that employees are being better supported.
"Getting an opportunity to support workers that I think often get completely overlooked, or are under-recognized is really cool," Teegarden said. "It's just the most rewarding thing to be able to enable these folks that keep our country running to do their jobs better, and hopefully feel more seen."
Going forward, TeamSense plans to expand its services to include a recruitment process and an onboarding platform. With the recruitment process, called Text-to-Apply, interested candidates can apply for jobs through their phone without the need to register with an email or download an application. "A simple text keyword can be used to attract applicants in any environment, from a sign outside a company's headquarters, in neighborhoods, to business cards that can be handed out at public events or used in advertising," according to a TeamSense press release.
The onboarding platform is designed to retain employees. "We've got the ability to kind of interact with the employees and deliver them resources and things that they need; we can make some of the antiquated workflows a lot more efficient," Stafford said.
"We can help managers give tips and tricks and nudge them to move from a digital tool to an actual human connection."
.