Brookfield Properties redid its East Village offices in the historic Eagles Hall. (Photo courtesy of Brookfield Properties)
Brookfield Properties has completed a $2 million renovation of its East Village regional headquarters in an historic building known as Eagles Hall.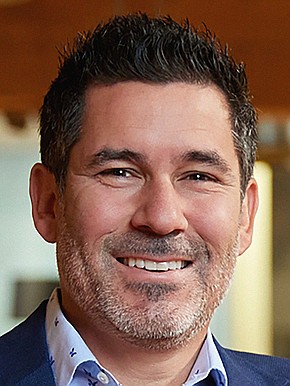 The renovation was needed partly to accommodate the growth of Brookfield's San Diego workforce to ultimately have up to 112 people on site, said Ted Lohman, Brookfield vice president and head of the Brookfield's San Diego office.
"We built for growth with the anticipation that we're going to continue to invest and grow in San Diego," Lohman said.

Built in 1917 with a Greek neo-classical revival exterior, the 18,000-square-foot Eagles Hall, 733 Eighth Ave., was renovated in 1997 by OliverMcMillan, a real estate developer.

Brookfield Properties acquired OliverMcMillan in February 2018 and acquired Newland, a homebuilder, in 2020.

Comfortable Fit

Squeezing everyone into the Eagles Hall after those acquisitions was a challenge the way the building had been configured, Lohman said.

"The way the office was laid out previously, it had the capacity for, I want to say, 65 people," Lohman added. "With the Newland team, at full capacity, we're closer to 85. We needed more room for the growth."

The three-story Eagles Hall is listed on the National List of Historic Places, so the exterior was untouched with the exception of two skylights that were added to allow more natural light into the building.

Much of the interior was entirely redone, with new furnishings brought in and white noise machines installed throughout for noise attenuation.

"You don't hear them, but they're doing their job by absorbing the noise of the office," Lohman said.

About a third of the first floor was renovated.

"The lobby is generally the way it was with the exception that we added a coffee bar," Lohman said. "Other than that, the biggest change on the first floor is we took an area in the back that had five offices and a big storage room. We got rid of the storage room, completely opened up the walls and then we got rid of two of the five offices. What we have now is three offices and 20 works stations. We went from five people and a bunch of files to 23 people."

While that "might sound like we're really packing people," Lohman said, "it's really a matter of taking an inefficient layout and making it efficient. These work stations fit in very comfortably."

The first floor also has two conference rooms.

Phone Booths to Mars

Redesigned, the second floor has a capacity of about 34 people with a large open area, conference rooms in each corner, and 22 individual offices around the perimeter, Lohman said.

Also on the second and third floors are "telephone booths of the future, complete soundproof booths where you get in and shut the door, nobody can hear you on the outside and you can't hear them," Lohman said. "They look like they can take you to Mars."

Four of the phone booths are for one person and three have room for two people.

"The doubles have a coffee table in the middle so you can set up a laptop (computer)," Lohman said. "You can comfortably have two people facing each other."

As part of the remodel, all of the desks were replaced with electronically operated desks that can be lowered to a sitting position or raised to a standing position.

"Everybody has the opportunity to sit or stand," Lohman said.

The old third floor had four large executive offices for one person each.

"We tore the walls down and turned those into open work stations," Lohman said. "Where there were four, we now have 18."

There also are four private offices.

The CEO's former office was converted into a lounge or living room.

"You can just gather and have a casual conversation or watch TV," Lohman said.
Brookfield Properties
Founded: (San Diego Office): 1968
San Diego Headquarters: East Village
San Diego Head: Ted Lohman
Business: Real estate developer and operator
San Diego Employees: 85
Website: www.brookfieldproperties.com
Contact: 619-321-1111
Notable: Brookfield Properties in an international developer and operator of real estate, operating more than 800 properties and more than 375 million square feet of real estate.