Brandi Silver never thought she'd be making pins and cards with funny phrases and that celebrated pop cultural icons via Pin & Proper.
In fact, Silver never even wanted her own business.
She was looking for one pin to honor her father's memory. When she couldn't find it, she decided to make it.
"My dad passed away in 2015, and I needed to keep busy. I had started collecting enamel pins from all over the Internet. At this time I was looking for a Tupac pin. I am a major fan, and the song"Keep Your Head Up" was playing on the way to my dad's service. I felt like it was a message," Silver explained. "I was finding pins that said they were Tupac but it was actually Nate Dogg. Random, weird stuff but people were buying them."
Born in Charlotte, but claiming Rocky Mount as home, Silver graduated from North Carolina Agricultural and Technical State University with a degree in Fashion Merchandising and Design. For the last 15 plus years, she's been working in the apparel industry and has held positions at Kontoor, VF Corporation, and Hanesbrands.
She decided to do some research and realized that with some help from Adobe Illustrator and Photoshop, and the right manufacturer, she could create exactly what she was looking for.
"That's pretty much what I've done in my career in fashion. Working with companies overseas, manufacturers, sketching, sending stuff off with specs and measurements," Silver said. "So I decided to take the leap and make my own pin the way that I wanted and that's how the business started. I didn't want a business. I was just collecting pins. The minimum order was 100 pins but what was I going to do with 99 pins? I just wanted one."
She ended up creating an Etsy page to, as she describes it, "toss the rest of the pins up there and call it a day."
That was in 2017. When the now 38-year-old just needed a creative outlet.
"I wanted a pin that I couldn't find so I decided to create it myself," she said.
Fast forward five years, the need to fulfill her "one" request has grown into a full-blown Etsy Shop, Pin & Proper by Brandi Silver, and has garnered the attention of national box stores, such as Target, and national media outlets like BuzzFeed and PopSugar. With pins and cards featuring everyone from Nipsey Hussle, Fran Drescher, Beyonce, Prince to The Golden Girls, Silver has made her mark and captured the culture in the past few years.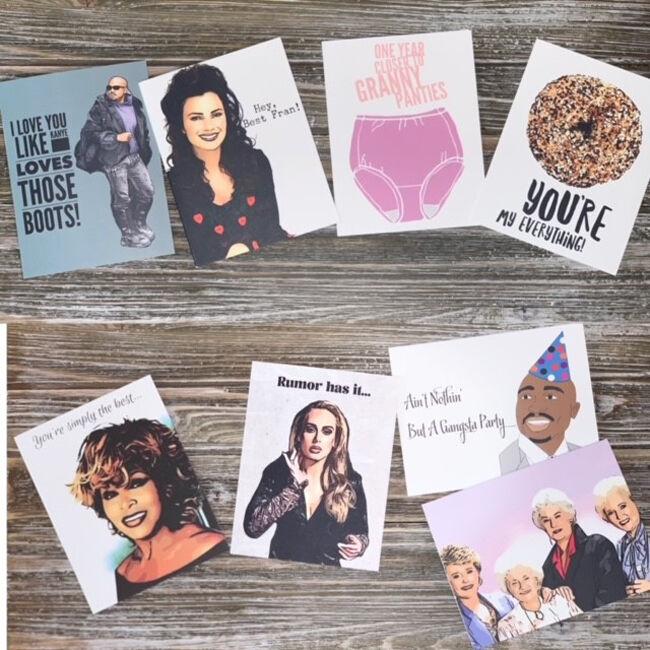 "I didn't expect 5 years later for this to be a thing. I didn't really expect anybody to really buy a pin," Silver said. "I felt like collecting pins was something a small group of people did. I didn't think it would be as big as it is but I'm very grateful that it is."
Grateful, indeed.
In August 2019, Silver's job was eliminated. She applied for jobs all over the country, even willing to relocate as far away as California, but received no replies. One day a discouraged Silver received a message from a former coworker to let her know that she and her works were featured on the pop culture website PopSugar.
"One of my Lizzo coaster sets was featured and I had no clue," she said. "It had probably been up there for a couple of weeks at that point. The coasters had sold out but I didn't know it was because it had been featured on PopSugar."
While Silver was excited about the success, she didn't put too much weight into the feature. She actually prepared herself for the worst. Still unemployed, running out of unemployment and now with the world shutting down due to the pandemic, she chalked up the "loss" of her business to COVID.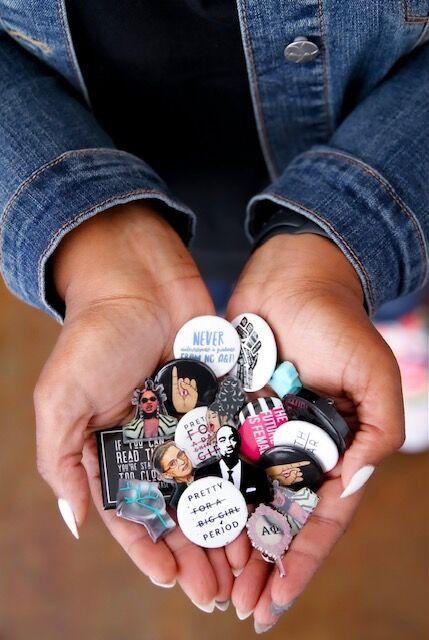 "I just thought 'well, there goes my business.' People don't have jobs right now and we don't know what's going on. Nobody's going to buy a pin or buy a card," Silver said. "They're using their little extra money towards food, gas, and keeping the lights on."
Instead, the exact opposite happened. Pin & Proper had its biggest and best year yet in 2020. Silver's creative outlet-turned-business garnered so much business it caught the attention of folks at the national retailer, Target. She received a message from them in January asking if she was interested in the store's virtual 2021 Black History Month Showcase.
Silver initially thought she was being pranked.
"Target is my favorite store ever. I'm in there constantly and they know me at all three of the Targets here in Greensboro," she said. "I asked her to confirm she was from Target. She had a target email address but people prank and scam all day long. I asked her how did she know me and she went on to say we've been discussing your business and so on."
After the representative send her links and information, Silver decided that the outreach was indeed legit and continued having to hear them out. She said she was shocked that someone from Target had found her on Etsy and decided to reach out.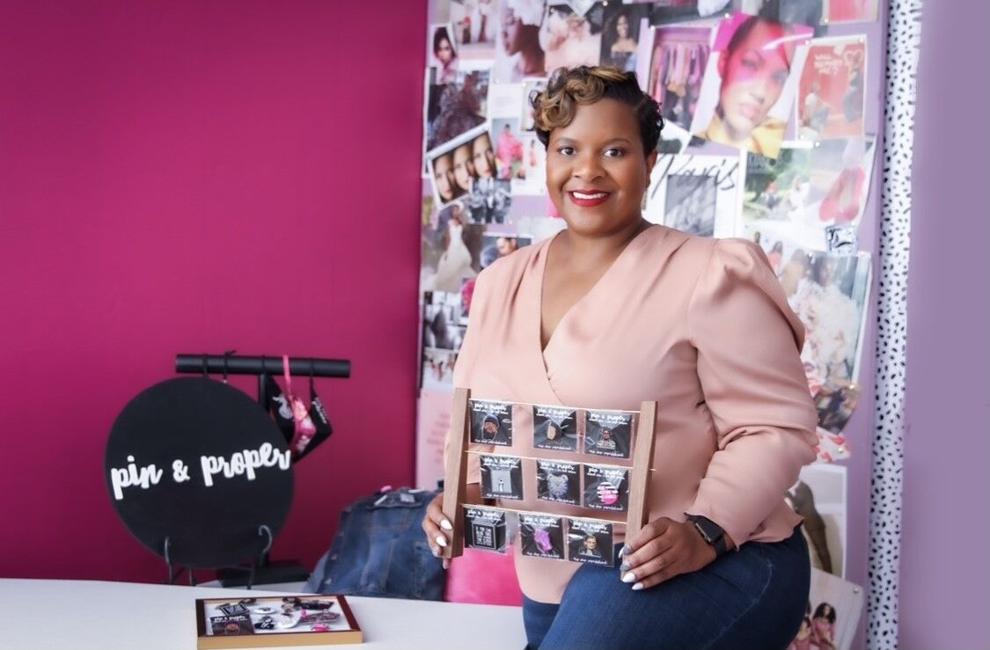 "It was myself and one other Aggie that was up there at the same time. The store offers a lot of leadership and entrepreneurship programs throughout the year to help people get into Target or just help with their business in general," Silver said of her experience. "I still can't believe that someone from Target reached out to me."
While unemployed during 2020, Silver was able to put her all into her business. Since she started working again in March 2021, she's had to slow things down a bit.
"Business is still great but now it's limited to nights and weekends. I am packing and shipping at the post office. It's just me so I don't really travel much because I have to get these orders out. If I go somewhere, like a vacation, I have to come back to shipping orders," she said.
In the past five years, Pin & Proper's collection includes pins, cards, keychains, buttons, stickers, mugs, coasters, and even a throw pillow or two.
Silver has always been crafty, often making handmade greeting cards for friends and loved ones when she could find the time. A growing need to focus on work and life forced her to slowly cut down on the time that she would commit to that talent. However, once that one pin was up, she started to think that perhaps she could add some cards, as well. Her biggest sellers are Mother's Day and Valentine's Day cards.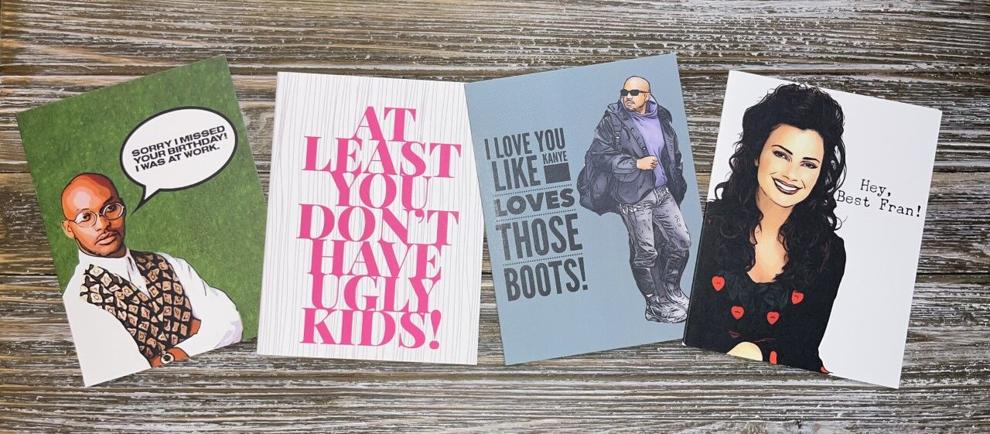 "I would hand-make greeting cards for friends and family and then would sell them in packs around the holidays," she said. "If I gave them a birthday card, anniversary card, or whatever, friends and family would ask 'did you make this?' That's always a question."
Silver said that began realizing that some people are just "card people."
"I have a sorority sister that has kept every card that she's gotten in her life. There are people like that. I'm not like that but there are people out there like that," she said.
With a few tweaks.
"Instead of hand making them, do the artwork and have them printed. Nothing customizable but I try to come up with quirky cards," she said. "They would either be in stock or they wouldn't, and people like them."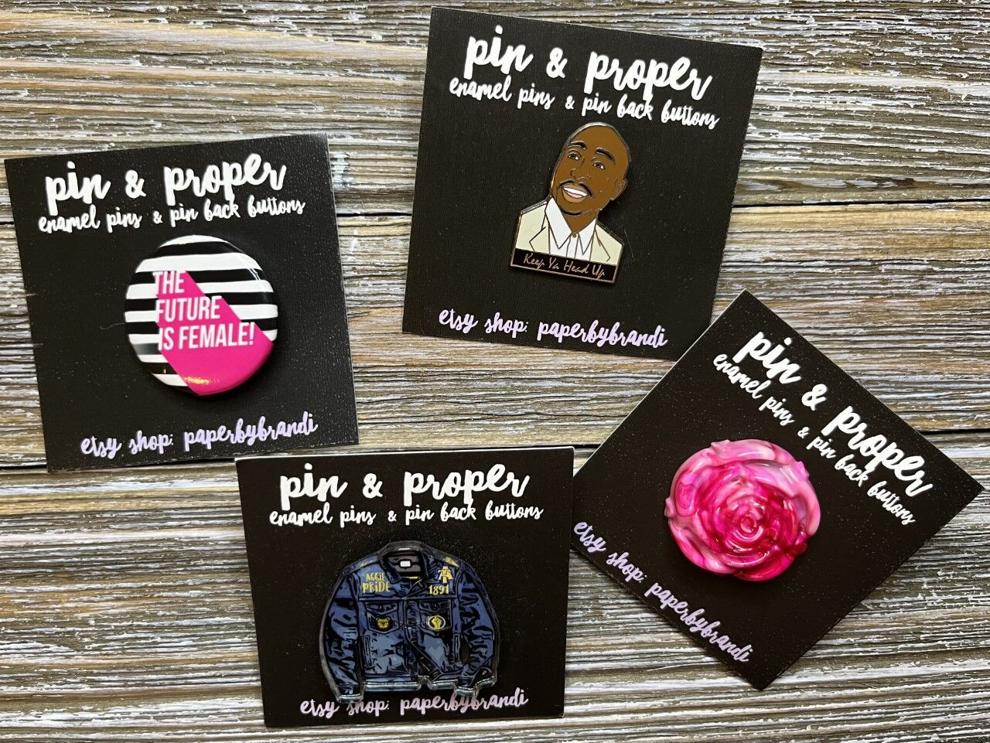 For someone who designs and is creative all day, the pins and cards give Silver an opportunity to express her creativity her way. A fan of R&B and Hip-Hop music, pop culture, and classic television shows, Silver's quick wit, deck of puns, and mental jukebox of song lyrics comes across in her creations.
"I don't have handcuffs, where at work I do. We have costs, we only do this amount of styles or this isn't our customer. There were always guidelines," she said. "If I walk into Hallmark, nine times out of 10, I'm not going to see a Tupac card or a Mary J. Blige 'What's the 411?' card. I try to create things that I don't think are necessarily represented as much."
In the Pin & Proper world, Silver gets an opportunity to pretty much do whatever she wants.
"Ideas just come through. I get a lot of ideas being in the apparel industry, I love colors and picking colors. I can do my own thing at my own pace, which I love. If it sells, it sells. If it doesn't, it doesn't."
Silver credits a huge part of her success to her Etsy site. She said that branched out at one point, paying for a website for six months and "didn't get one hit."
"Etsy has been great to me. There are people there just looking for things. They don't have to know me, know what Pin & Proper is or anything about Greensboro," she said. "They just have to type in a word, and if it's something that I have, it will pop up."
A business model that has paid off for Silver time and time again, causing her to be labeled a 5-star seller on the platform.
"I've sold to people out of the country and within the country. Ninety percent of the people who buy from me, I have no clue who they are," she said. "If you can make it, somebody is going to buy it. It may not be 100,000 people, but you can find the group of people that want it."
No matter how much success Silver achieves with her business, it still surprises her that anyone recognizes her and her brand.
"As far as I'm concerned, I'm this person that's just doing my own little thing. So when people reach out, I ask, 'how do you even know me? I am still just a plain Jane, working 9 to 5, and I do this on the side. I still have a little Etsy page, and I'm still the same ol' Brandi. But, you know, things are getting bigger for me."
To shop with Pin & Proper visit:
Etsy: www.etsy.com/shop/PAPERbyBrandi
Facebook and Instagram: PinAndProperByBrandi
.