Gear Insider provides comprehensive, down-to-earth recommendations and reviews on all the amazing stuff that helps us SCORE. (Note: Our editors independently select these products. We may earn a commission if you buy from some of these links.)
***
As romanticized as the concept of a sunrise surf may be, the reality is, dawn patrols are far from glamorous. From forcing yourself out of your cozy bed to finding that you've left your wetsuit outside to accumulate dew overnight, waking up early to surf can be a struggle, even for the most morning-inclined individuals. But for anyone who works a 9–5 (let's be real, an 8–5), the only time slot open for a weekday surf is at the butt crack of dawn.
The good news is that, for many of us, gone are the days of struggling to get into our work clothes from a sandy parking lot. Things have gotten a bit more casual for some of us desk jockeys, and now we just work from home (WFH), instead of schlepping our boards and gear to the office. That said, even at home, you probably want to make that transition from wet and sandy to well, not, as soon as you get out of the water and before you hit that first meeting. And you're in luck, because these days, there's a bunch of nifty goodies to keep you comfy and make your morning routine oh-so-efficient for those extra few minutes in the water — or in bed, we don't judge.
Jonesea Fullsuit | Changing Poncho | Changing Mat | Haircare | Skincare | Vuori Gear | RAEN Sunglasses
[All photos: Jeremiah Klein]

Jonesea 3/2.5mm Onyx Sage Fullsuit
Whether you've been surfing your entire life, or are a newly appointed whitewash warrior, a properly fitting wetsuit is essential for dawn patrolling in the non-tropical region. But wetsuit shopping is just the worst, especially for women, because for decades the surf industry's followed the adage, "pink it and shrink it," as brands just slap some stereotypically "girly" print on a men's suit and make it in a smaller size, often ignoring feedback on what female surfers actually need. We've all done that awful, surf shop changing room dance: trying on suit after suit, sweating under the fluorescent bulbs, wondering if you'll have to call over the teenage retail clerk to cut you out of some ill-fitting neoprene monstrosity you've stuffed yourself into like a sausage.
Enter Shane Jones of Jonesea, an Orange County, CA-based custom wetsuit tailor who makes every single one of his wetsuits by hand, start to finish. Jones is a master of his trade, and his suits are high-quality, beautiful and best of all, fit perfectly. Jonesea recently expanded its line to offer ready-to-wear wetsuits in a variety of styles and colors that can be purchased directly from the website. The size chart is accurate and easily understandable, and the big box brands, the fit models are unlike actual surfers with actual shoulders. Both Jonesea's custom-ordered suits and those available online run at a slightly higher price point than the big brands, but in my experience, last exponentially longer. You can't beat quality, and that alone should convince you to invest in a Jonesea wetsuit —but the fact that the suits look amazing certainly doesn't hurt.

Kassia Surf x Suay Sew Shop: Your Favorite Changing Poncho
Does anyone truly need a changing poncho? The old me would say no. I just settled for towel life and never looked back. I'd always loved the concept of changing ponchos, but most brands make them with massive armholes that, on a 5'3" woman such as myself, would be rather exposing. Along comes Kassia Surf, designed by longboarding icon and industry veteran Kassia Meador, who makes surf accoutrement geared toward the female audience, including a wetsuit line, collabs with Dakine and this changing poncho made with Suay Sew Shop, which specializes in repurposing textiles and giving them new life.
Let me tell ya: this poncho, created by a woman-owned company in collaboration with another woman-owned company and made with dead-stock cotton and low-impact fabric dyes (Yay, Earth!), has officially made me a poncho person . It's the perfect size for anyone under 6'0" — long enough to cover the bits, short enough that you're not going to trip over it when peeling off your wettie. Death by parking-lot-changing-mishap would be an awful way to go, huh? Good thing this cute, eco-friendly, perfectly sized changing poncho exists.

Rareform Changing Mat
What a wonderful invention. After years of changing in my truck bed at risk of flashing the whole parking lot, I've finally leveled up. Rareform makes their goods out of old billboards, which are made of vinyl and therefore quite difficult to recycle. They up-cycle the material into durable, water-resistant duffels, boardbags and these changing mats, which also feature a drawstring so you can cinch up your wetsuit, keeping your car's interior nice and dry.
A major benefit to using a changing mat is that you prolong the life of your wetsuit. Stomping it to gravel, dirt and asphalt will fast-track your wetsuit to a single-season lifespan. In addition to helping the environment, protecting your wetsuit, and supporting a small business, ordering a changing mat from Rareform also offers a fun surprise: you never know what you're going to get on the printed side! The efficiency alone of your changing mat converting into a dry bag should be enough of a sell, but the additional perks wrap it all up into a nice, up-cycled package. Just don't forget to hang your wetsuit out to dry when you get home, or you'll be in for a musty surprise next session.

Hairstory Studio New Wash
I've gotta give a shout-out to my hair stylist for this one. She also surfs and recommended New Wash to me for its efficacy and quality, while raising a great point about why this product is especially useful for surfers. We seek sunscreen that is natural and reef-safe, but what about the other products that wash off our bodies into the ocean? Most shampoos, even high-end professional lines, include chemicals that are not only bad for our hair, but also the environment. That's the great thing about New Wash: it's made of 100% natural ingredients, free of detergents, parabens, sulfates and the like — plus it's neither shampoo nor conditioner. While New Wash is a single product that replaces the need for both, this ain't your college boyfriend's Old Spice two-in-one. The original formula feels thick and luxurious like a conditioner and cleanses, moisturizes and detangles all at once. You can bring the handy-dandy pouch wherever you go and use it in the beach shower without worrying about contaminating our oceans.

Salt and Stone Sunscreen and Moisturizer
By now, we all know that sunscreen is a year-round must. Even when it's early in the day or overcast, we're soaking up UV rays every time we go outside. Luckily, Salt and Stone offers a perfect surf sunscreen with its mineral-based SPF30 cream. While some mineral sunscreens smell excessively earthy and leave a major white cast, Salt and Stone has pulled off some wizardry to create a mildly scented formula that blends into skin within a few minutes. It's a little thick for your daily, mental-health walk around the block, but perfect for whenever you can get in the water.
I'm no guru and have yet to find the perfect 600-step routine, but both my mom and dermatologist constantly remind me to moisturize. Salt and Stone's Hydrating Facial Lotion gets the job done and is the perfect après-surf treat for your thirsty pores. With all-natural ingredients and the same mild scent as the sunscreen, it leaves your skin feeling rejuvenated and happy, wipes off the crusty salt deposits from your eyebrows, and as a bonus, works well as a toner/primer.

Vuori Sherpa Jacket, Daily Leggings, and Daily Bra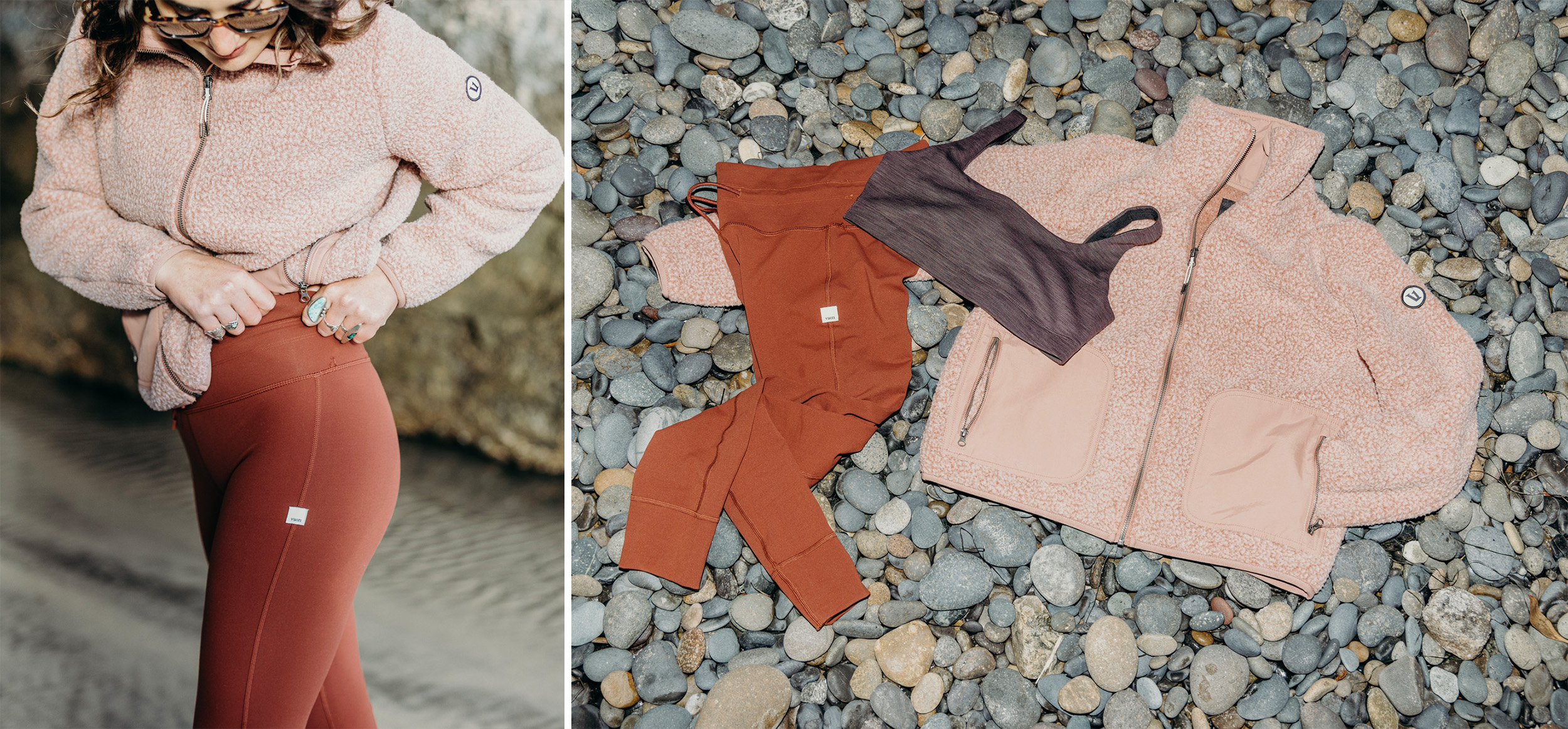 Call it activewear, athleisure, or whatever you want — Vuori makes comfy, flattering gear for everyday life. With clothes technical enough for a workout, comfy enough for a hangout and fashionable enough for a go-out, I can't get enough of this San Diego-based lifestyle brand.
Alpine Sherpa ($138.00)
The hunt for the perfect zip-front fleece stops here. This Sherpa is warm. This Sherpa is cute. This Sherpa has zip pockets so you can safely store your phone, wallet, keys or any other treasures. Throw it on over your pj's while you pack up your car in the morning, then get 100 compliments about it while you grab your post-surf oat milk latte.
Daily Legging ($59.00)
I want to wear these leggings every day. In an era where so-called "hard pants" are no longer required for work, the Daily Leggings bring up the farshun a notch, thanks to the flattering high waist, 7/8 length, and fun (yet completely ancillary) drawstring. But here's the real zinger: you can actually put these leggings on after a surf without them getting all twisted and sticky on your still-wet legs. You know the feeling. I don't know how they pulled it off, but I can't say the same for the competitors' versions.
Lux Rib Daily Bra ($54.00)
Here we have your typical scoop-neck sports bra, zhuzhed up a bit (and yes, I looked up how to spell that). The ribbed fabric is trendy and creates a high-end feeling, while the mesh lining is soft and comfy. However, I did struggle to find a bra that fits my proportions. If you're a bustier gal, heed my warning: Vuori bras are designed with the IBTC in mind (Google it, if you don't know).

RAEN Keera Sunglasses
Surfers spend a lot of time squinting. You strain your eyes to check the waves, to figure out whether that's really you shredding on the Cam Rewind, to glare at someone who just burned you… In fact, many surfers suffer from pterygiums, a cataract-like film that develops after prolonged sun exposure, which can only be removed surgically. That's why sunglasses are absolutely essential for anyone who surfs — you've got to protect your peeps even throughout the not-so-sunny months. While wraparound dad shades get the job done, you can always opt to go the stylish route with RAEN. Born out of Oceanside, CA, RAEN's handmade frames are effortlessly chic yet entirely practical, taking inspiration from surfers and the lifestyle we embrace.
Over the years, RAEN has thoughtfully curated hundreds of styles designed to suit a mélange of face shapes and style preferences. From the bold, quirky Luxury Wig line to unbeatable classics like the Remmy frame, RAEN has something for everyone. Remember, you're never fully dressed without your sunnies.