HPU interior design students created their own designs and are landing internships through these opportunities.
HIGH POINT, NC, April 6, 2022 – High Point University students learned from industry professionals at the spring High Point Market, one of the largest home furnishing industry trade shows in the world, from April 2-6.
The biannual event attracts industry leaders from across the globe who hire students, providing experiential learning opportunities to network and work alongside professionals during the five-day event.
This is the first time HPU junior Alexis Haas has worked at the event with DesignMaster Furniture, which focuses on interior design for dining spaces.
"I've always wanted to work market and gain that real-world experience while in college," said Haas, an interior design major from Pottstown, Pennsylvania. "This has been a fun experience learning more about dining chairs, what the trends are and how to communicate with clients. I'm interested in working market again after meeting so many people and networking to navigate my future in the industry."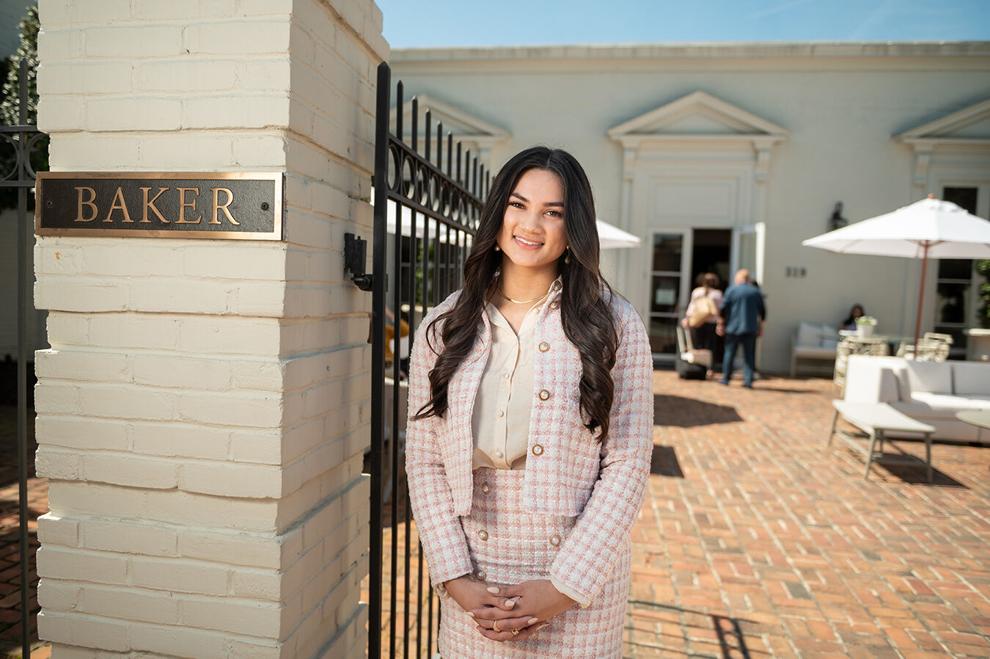 For sophomore Anastasia Avlonitis, this is her second time at the biannual event, and she's taking every opportunity to grow. This spring she's working with the company Regina Andrew by helping clients with orders, shadowing her supervisor and taking interested buyers around the showroom.
"I really enjoy the sales aspect of working market," said Avlonitis, an interior design student from West Chester County, New York. "I get to use my creative thoughts within sales and help customers when making decisions on what kind of finishes or products they want. I am extremely grateful to have an opportunity like this. One of the reasons I chose to go to HPU for interior design is because of these great networking opportunities. I was able to meet many designers and store owners and exchange business cards."
Abigail Peterson has created a strong relationship with Baker McGuire in downtown High Point after working two markets, holding a part-time job and now preparing for a summer internship with the company. She credits working at the High Point Market as one of the reasons she landed the upcoming internship.
"I've been able to network with a lot of global designers, which has allowed me to make different connections in the furniture industry," said Peterson, an interior design major from Stillwater, Minnesota. "My mentor at Baker McGuire has introduced me to a lot of different people in the company, and that opened the door to different opportunities."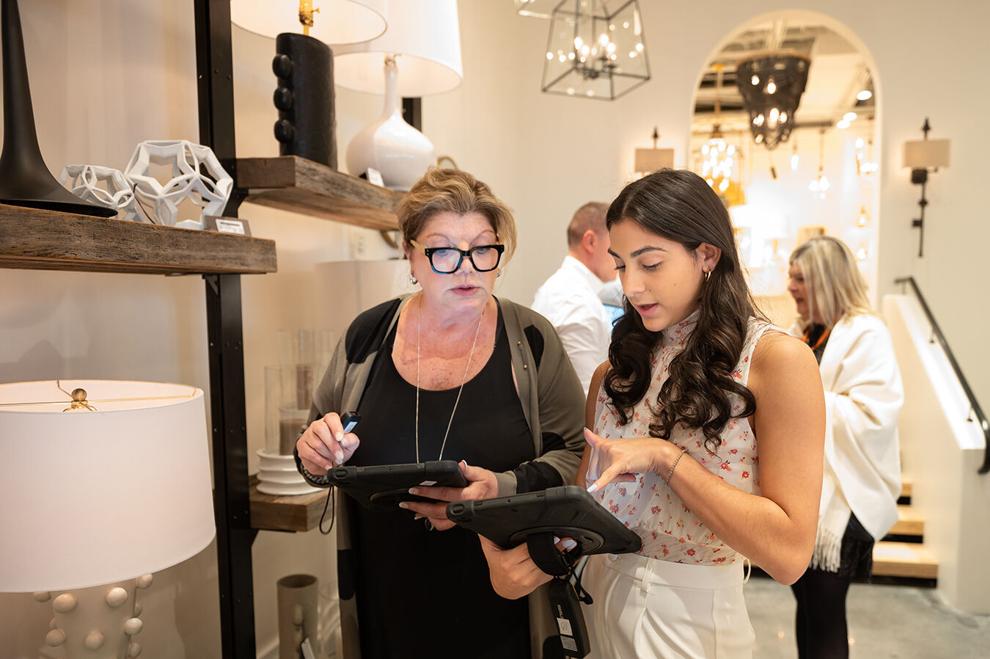 Industry professionals can tell HPU students are professional, willing to learn and excited to engage with clients.
"It's a great community to have HPU students work with us and learn the brand," said Arika Lowther, creative director for DesignMaster Furniture. "I think the partnership with HPU and the High Point Market is a great program to have students over here and learn the product, especially if this is what they want to do moving forward. It's a great steppingstone for students."
HPU students made their mark at this spring's furniture market in different ways, such as designing portions of a showroom. Jae Burdett, a junior interior design major from Fayetteville, North Carolina, interned at Alden Parks at the fall market. This spring, she helped showcase a new collection and be a part of their "Musical Chair." She designed their new chair that debuted at the market by choosing different fabrics, finishes and materials that represent the company and her design.
"Since my freshman year, I've been immersed within the industry and work for a plethora of companies that have allowed for me to see all of the possibilities I have with my major," said Burdett. "I never knew that it would lead me to designing my own chair. I am beyond honored and excited to not only have a support system from successful professionals in the industry, but to be able to create and continue creating pieces and spaces that reflect me."
Her chair was raffled on April 2 with the proceeds going toward a design scholarship at HPU.
.