College students can conjure up endless ways to make extra money, whether it's food delivery, Uber or Lyft driving, bartending, waitressing or even dog sitting. The more creative of college students, though, can find ways to make some extra cash while simultaneously pursuing their passions. Jewelry making is a popular pursuit, and polymer clay handmade earrings are popping up everywhere you look.
In 2018, worldwide sales of polymer clay were at $28 million dollars. Some of the market is made up by toy manufacturers, but the share of independent jewelry makers is growing — and fast.
Addison Farley, a University of Cincinnati (UC) Blue Ash alum, jumped on the trend in late 2021 with her business, Clay AF Design.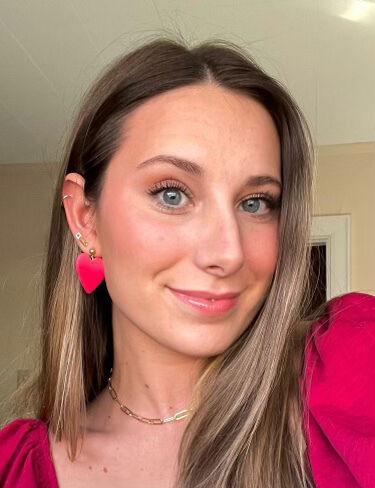 "While I was trying to figure out what I would focus on for my senior thesis project this fall, I was pushed by my professors to pursue something I was passionate about; something that I could keep working on even beyond graduation," Farley said. "I've always loved the idea of ​​clay earrings and was drawn to making them myself. It wasn't until the pandemic hit, and I had some free time I was able to start making some at home just as a fun hobby."
Addy Farley graduated from UC Blue Ash in 2020 with an associate degree in graphic communications, then spent a year on UC's main campus in DAAP and is now finishing her education at the Art Academy of Cincinnati (AAC). She will be graduating this July.
For Farley, her hobby has turned into a small business. "After designing and creating my 'brand' I was pushed to make this idea of ​​a clay earring business into something tangible," she said. "So it's slowly becoming my own little small business."
Earrings are an easy way to express herself, according to Farley, who started wearing clay earrings at a job with a strict dress code.
"I think [earrings] are such a fun way to accessorize that doesn't break the bank," she said. "I could wear the same uniform every day, but with different earrings it felt like a new outfit."
Clay AF doesn't just include handmade earrings; Farley recently started making custom clay keychains. Plus, she's already shown her work at two local markets: Second Sunday on Main in November 2021 and the AAC Merry Market in December 2021. She made Christmas earrings and recently released a line of Valentine's Day earrings for the holiday.
While she's seen a good amount of support and success, she measures her success by her progress.
"I think the success I'm most proud of is how far I've come in terms of my products and designs," she said. "I'm continually trying to make myself and my business better, and that's a huge success."
After graduation, Farley plans to move to Georgia and hopes to work at a design agency, though she has hopes that her small business will grow. "I hope it grows in terms of quality and quantity," she said. "I think I get better at my craft every day and every pair I make. I also hope to gain more recognition and expand my customer base. For right now, I'm hoping Clay AF can still be fun."
.